We pride ouselves on our knowledge of ceramics and ensure that we work closely with our customers to meet their requirements.
The ceramics that we manufacture cover two main areas; they are Technical Ceramics and Industrial Ceramics.
Shapes range from cylinders, flat and round bottom cups, plates and rods. All with flexible sizes to suit your requirements.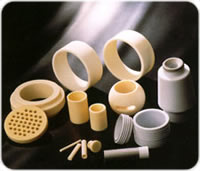 Technical Ceramics:
The materials that we supply are Zirconia and Alumina and they offer the following features:
High wear resistance.
Chemical resistance.
Heat resistance in continuous use.
Insulation resistance in high temperature and high voltages.
Mechanical strength and fracture toughness.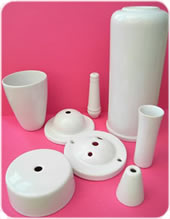 Industrial Ceramics
The material is porcelain for industrial applications and whiteware for general household applications which includes bathroom furniture.
We have the ability to supply various shapes and sizes to suit the customer's specific requirements.